Monday, May 31, 2010, 09:49
Posted by Administrator
Christina was a big help this weekend. Sunday we made pancakes and Christina helped mix the batter. After breakfast she also helped sweep the floor. Christina even helped with the dust pan and little broom.
Saturday Christina and I went to Irvine Park for Kevin's long awaited reception. Christina ate super well. I think she likes Kevin's cooking(he grilled). After eating and visiting we joined Aunt Sheri and Dylan playing on the slide. Christina and Dylan both sat on my lap for a trip down the slide. Both did excellent sitting well and holding on. I forgot to bring the camera to the play equipment so I did not get a picture. I'm still kicking myself for that. Then we headed for the animals. Christina got to pet a donkey and a calf. We also saw big turtles. One of them was eating lettuce. Most of the animals were trying to stay cool so they were hard to see. Then we stopped to get our feet wet in the creek on the way back.
Sunday Christina got to meet more neighbors. Simon is three and Max is six months. Christina was shy, but did say "Hi' to everyone.
I saved the best for last...
Christina has been walking in her gait trainer on the deck for awhile. Sunday she walked the whole length by herself. She got lots of encouragement and it was tough. I walked next to her for part of it. No hand holding, she did it on her own. When Christina made it to the end we were all done and I gave her a huge hug. I am so proud of her. We then went for a long shoulder ride as promised.
There is no one with more determination than Christina.
I will check into getting video up on the site. I do not want to use the 'free' sites.
Here are some pictures from Christina helping.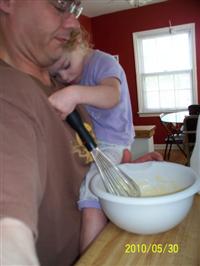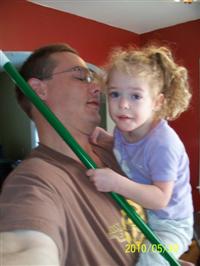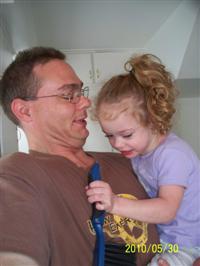 add comment