Wednesday, June 01, 2011, 12:27 -
General
Posted by Administrator
Memorial Day Weekend was filled with lots of outside play. We went for several walks, wagon rides, playing in the grass.
Christina's flowers were too big for the little starter box so she put them in a big pot with lots of room to grow. Christina's favorite part was digging in the dirt.
Christina did lots of swinging outside over the weekend. For something different I lowered the swing so Christina could reach the grass. It was fun to watch her stretch her toes to touch the grass as she went back and forth. At first she didn't know what to think, but it didn't take long for her to figure out she can make the swing turn and twist with her feet.
We also made cookies and they turned out delicious. Christina made sure to taste to be sure.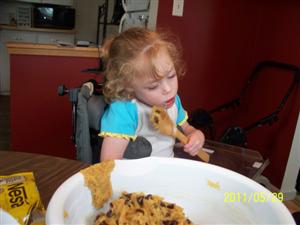 The princess did a great job holding her head up for wagon rides. We tried taking a bumpy ride over the lawn and Christina is a big fan of bumps and going down the little hills. Dylan offered his services to pull the wagon. He was sure to find all the puddles to pull Christina through.
On Memorial Day Spring came to visit with her family. Christina enjoyed more grilled food and was happy to show everyone her smile.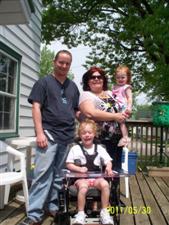 add comment