Monday, June 14, 2010, 22:49
Posted by Administrator
This past weekend Christina went to Cinder City Days. We did not plan well, but we improvised and had fun. Lets start with the beginning of the weekend.
Saturday we went to the pool. Christina did amazing in the water. Christina took great steps in the pool as we walked from each end. Her steps were high and she kept her feet flat. Christina is getting so tall, she can walk almost half way to the deep end before the water gets to drinking level. And Christina still enjoys a good swig of pool water. We also kicked and splashed. Saturday Grandma Kar also came over and sang with Christina. Christina taught grandma some new songs.
Christina also did some walking outside in the gait trainer. Christina still amazes me with more progress each time. She really enjoys going from one end of the deck to the other. Christina's determination really shows in her actions.
Sunday we went to see James, Robyn, and Ben participate in the triathlon. Christina and I both slept in so we did not get there at the start. Christina walked to James and Robyn each and gave them hugs and kisses. Thank you James, Robyn and Ben for your participation.
After the triathlon we headed for Cinder City Days. That is where I goofed. We got there a little after 11 and it didn't start until 1. Christina and I waited for Haley, Jacie, and Kassidy to get there then we walked to the park. Christina went down the slide and of course enjoyed that. Christina and I went down one slide while Jacie and Kassidy took turns going down the one next to us. We also went on the swings they have been hit or miss for me and this time was a hit. And I mean huge hit, Christina was giggling and laughing up a storm. We also did lots of walking. I think Christina liked the feel of the damp grass. Then back to Cinder City. While the girls got tickets Christina and I had a snack. After seeing some of the sites, we headed for the fishing game. Christina stood in line to wait her turn and I can tell you she does not like to wait. Once it was her turn the little princess walked right up to the pond and took the fishing pole. With some help getting a good grip she was on her own. Christina caught her fish and went to get her prize. Christina came home with a sparkling baton.
After a big lunch and some quiet time we headed back outside for more gait trainer time. Again I can not say enough about how well Christina has been doing. She is so proud when she reaches her goal.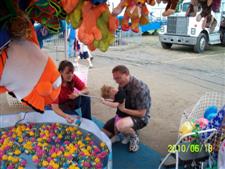 FishingPicking the prize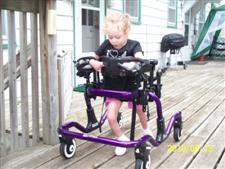 Reaching the end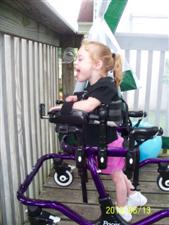 Determination

add comment