Daddy's Log 20100927

Today Christina rode the school bus for the first time. All seemed to go well. Christina enjoys partaking in the same activities as the other children. I am sure she will enjoy the bus rides, at least for a while.
Sunday we went to the UCP Family Picnic. Christina ate well and enjoyed the time there overall. She won a few prizes and liked the music, singing, and cake walk.
I am not sure how to word it, but seeing Christina in her chair on the bus was difficult. Someday I may go into detail; for now, I'll leave it as it was difficult. For those of you who have sent kids off to school on the bus for the first time are probably relating thinking "yes, I remember those days". Thank you, but you would be wrong. Seeing her on the bus going to school was the easy part today. For those of you who 'see' what I do, thank you. And my thoughts are with you too.
Pictures
Bath Time
Bath picture removed per Angela's request.
Reading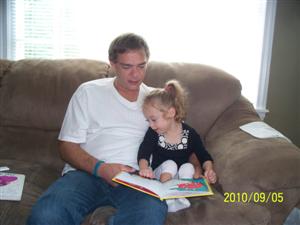 | | |
| --- | --- |
| Daddy and Christina | International Fall Festival Parade |
add comment
( 333 views ) |
permalink
|





( 3 / 276 )




The International Fall Festival downtown kept Christina and I entertained on Saturday. Christina showed off her smile and received lots of compliments. I can not describe how hard she laughed when seeing the zebra. The zebra just stood there, but Christina laughed hysterically. Even when we went back for another look she started laughing.
A good portion of the day was spent climbing the stairs and sliding down. Christina loved it; as for me, my legs and bum are sore.
Christina has been getting better at showing me what she wants when I do not understand what she is trying to say. She walks to the bathroom, refrigerator, pantry, stairs, door, bedroom, to name a few to get what she wants.
Friday night Christina decided about 45 minutes after laying down that she wanted more hugs. I'm not sure if she woke up from a dream or had not fallen asleep yet and wanted attention. In any case she wanted me to hold her and walk around. I told her I would hold her in the chair for a little while and she was ok with that. Five minutes later I told her she had to go to bed and she gave me a big grin and a hug. Back to bed she went.
Getting ready for bed.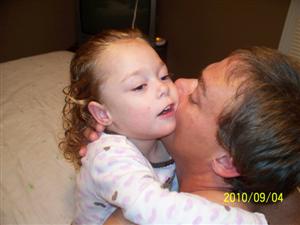 add comment
( 314 views ) |
permalink
|





( 3 / 318 )




Daddy's Log 20100909

Christina had a good day at school. When she first saw me she started to cry and wanted up. I held her hand and told her we were going to walk to the van. Marie, her teacher, pushed Christina in her Kid Kart while I held her hand. When Christina saw the van she stopped crying and waited for me to pick her up.

Christina and I played and had a good time. She did wonderful walking in her 'pony' and using the flash cards.

When it was time for Christina to go with Angela the princess gave me extra hugs and held on tight. I miss Christina.

Daddy's Log 20100912

Christina and I had a busy weekend. The Sport Motors Harley Davidson/UCP raffle was on Saturday. On Sunday we went to the fall festival at Draman Church. Both events were fun. We also did lots of walking and singing.


add comment
( 103 views ) |
permalink
|





( 3 / 87 )






It was cooler today, thank goodness. Christina has been making wonderful progress with the flash cards. I too have been making progress with my listening skills. Christina has noticed and continues to work with me to better understand what she is trying to say.

We have continued with our regular walks and wagon rides. Christina really enjoys the wagon. Christina also has shown that she likes to hold Grandma's hand when she joins us. Most days she does well keeping her head up.


add comment
( 308 views ) |
permalink
|





( 3 / 311 )




Monday, August 23, 2010, 20:58
Posted by Administrator
I read this in an email from one of the groups I try to keep up with. I liked it and wanted to share.
It's none of my business what other people think!
add comment
( 396 views ) |
permalink
|





( 3 / 302 )


<<First <Back | 55 | 56 | 57 | 58 | 59 | 60 | 61 | 62 | 63 | 64 | Next> Last>>