Friday, June 27, 2008, 08:00
Posted by Administrator
On Friday, May 20th, 2008; Ruby Tanner Graham was born at home.
Congrats to James and Sarah.
Christina now has another cousin. I will post more later.
add comment
( 361 views ) |
permalink
|





( 3 / 292 )




Thursday, June 19, 2008, 22:43
Posted by Administrator
Did you take part in Download Day. I did. Firefox 3 here we go.
I haven't noticed a whole lot of difference yet, but then I am not on the computer a whole lot when I get home.
The big differences for me are the add-ons that do not yet work with v3. I use a few add-ons that I really took for granted.
Christina is doing ok. I will be glad when the two swollen gums split and let those poor teeth out.
I got some pictures off the camera from the 7th. Dan, Sheri, and Dylan stopped by. There are some good ones. And a nice pic of Angela holding Christina and Dylan.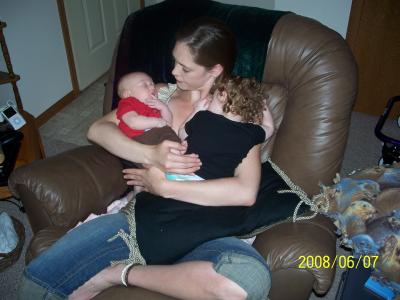 add comment
( 376 views ) |
permalink
|





( 3 / 302 )




Thursday, June 12, 2008, 23:21
Posted by Administrator
The girls are asleep, dishes are done, and pictures are uploading. It is about time to call it a day.
I wanted to put up a quick post. I'm am trying to make an effort to throw something up more than once a week.
The real news, Christina is doing well. At least as well as can be. She has one tooth that finally broke through and I would have sworn there was another. At least it felt like it. Three more to go before the next round of molars. Her tone has been really bad the last few days. We're guessing another growth spurt. Poor kid, she tries so hard to reach and grab for things. You can see the determination and frustration in her eyes. And, the last two days I managed to feed her really well and bind her up. Last night she got the suppository. The first golf ball made a pop. The second was in the tub during bath time. I over-reacted and yelled for Angela. Something that big shouldn't have to come out that little tush. Christina screamed. After 20 minutes or so she was calm and bedtime was the usual.
So much for a little post. Time for bed.
Derek
add comment
( 969 views ) |
permalink
|





( 3 / 270 )




Tuesday, June 10, 2008, 13:17
Posted by Administrator
What a day. The morning started bad, the coffee maker died today.
Woke up this morning and the coffee maker was on and not brewing. Tried turning it off and back on with no luck.
Not messing around this time, splurged and we ordered a Cuisinart 14-cup.
add comment
( 2692 views ) |
permalink
|





( 3 / 275 )




Sunday, June 8, 2008, 05:59
Posted by Administrator
Morning,
It is a gloomy Sunday morning. I am up before the girls. Coffee is started and I'm too lazy to grab the orange juice out of the back of the refrigerator.
Christina slept all night by herself. Huge accomplishment. I better check with Angela, to make sure I didn't sleep through anything. I hope this is the start of a trend.
I'm having a hard time focusing. This background is way to bright for this time of the morning.
Dan, Sheri, and Dylan stopped by yesterday afternoon. We got a couple pictures of Angela holding the two kids. Dylan is 11lbs 11oz and 2 months. Christina is 20lbs 6oz and 23 months. I will get a picture or two to put up.
I'm using Christina's laptop and I think I will check into putting SP3 on here to find out how much will break.
Sunday morning means pancakes. I better get the stuff ready to go. It is easier without holding Christina.
Derek
add comment
( 164 views ) |
permalink
|





( 3.1 / 180 )


<<First <Back | 76 | 77 | 78 | 79 | 80 | 81 | 82 | 83 | 84 | 85 | Next> Last>>