The International Fall Festival downtown kept Christina and I entertained on Saturday. Christina showed off her smile and received lots of compliments. I can not describe how hard she laughed when seeing the zebra. The zebra just stood there, but Christina laughed hysterically. Even when we went back for another look she started laughing.
A good portion of the day was spent climbing the stairs and sliding down. Christina loved it; as for me, my legs and bum are sore.
Christina has been getting better at showing me what she wants when I do not understand what she is trying to say. She walks to the bathroom, refrigerator, pantry, stairs, door, bedroom, to name a few to get what she wants.
Friday night Christina decided about 45 minutes after laying down that she wanted more hugs. I'm not sure if she woke up from a dream or had not fallen asleep yet and wanted attention. In any case she wanted me to hold her and walk around. I told her I would hold her in the chair for a little while and she was ok with that. Five minutes later I told her she had to go to bed and she gave me a big grin and a hug. Back to bed she went.
Getting ready for bed.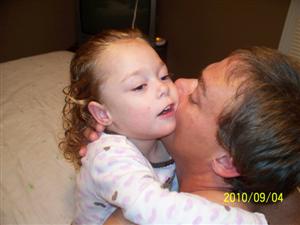 add comment
( 314 views ) |
permalink
|





( 3 / 318 )


<<First <Back | 56 | 57 | 58 | 59 | 60 | 61 | 62 | 63 | 64 | 65 | Next> Last>>