How to put this... ummm... seeing the new wheelchair is harder this time than seeing her first one(the Kid Kart).
Christina also went to the Big Rig Truck Show. And wanted to see the Truck Light Parade. I have to share how we ended up going to the parade.
I knew the parade was at 8. I thought Christina may like it, but was concerned about the time. That is the princess' getting ready for bed time. As the day wound down I opted not to go to the parade. Feeling bad about this I figured it would be better if I asked Christina if she wanted to go. Knowing it had been a full day, Christina was in her wind down stage, she loves her bath time and bedtime routine my guess was Christina would agree the parade could be skipped. I was wrong. I set the yes/no switches and asked Christina if she wanted to go to the Truck Light Parade. Christina reached for the yes hitting no on the way. She then proceeded to hit yes many time. I moved the switch, adjusted her so she was sitting more upright and put the switch back on her lap. I asked again and she looked at me and hit yes, yes, yes. We went to the Truck Light Parade.
Christina and John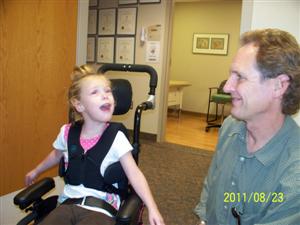 Christina checking out a big truck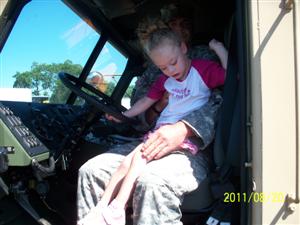 add comment
|
related link