Christina had her wheelchair fitting yesterday. It went well, but it was and is emotionally draining. Let's start with the good stuff. The chair is pink with black padding. The side prompts will hold Christina from her side to side shifting. The chest prompt is neoprene with an elastic band attached which should give the comfort of the neoprene and still have the strength to hold Christina correctly. The lap belt goes over her hips not her waist which should hold the princess in place better as she tries to squirm around. The ankle straps seem more comfortable, but we'll know for sure looking for bruising.
The princess was well behaved throughout; although, she was not a fan and you could tell after a couple hours in the hospital she was ready to go.
We went to the Big Rig Truck Show. Christina enjoyed some of the odd stuff we did. We walked under/in one of the big plows and had fun waling over the foot bridge. Christina wanted to check out the Truck Light Parade that night. As she was watching the trucks go by I was watching her track the lights. Good job Christina. And when they blew their horns Christina giggled on the loud ones.
Christina helped with my first attempt at zucchini bread. After we were done mixing everything and I was greasing the pans Christina asked for a taste. I didn't want to tell her no, but I didn't think it would taste good. So I told her I wasn't sure what it would taste like and she could try it if she wanted. She wanted.
This is taste number four.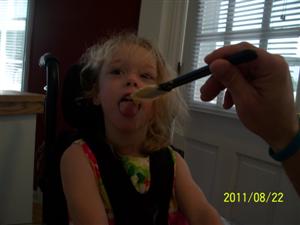 add comment
( 172 views ) |
permalink
|





( 3 / 216 )


<<First <Back | 46 | 47 | 48 | 49 | 50 | 51 | 52 | 53 | 54 | 55 | Next> Last>>