Daddy Log - 20100718
Christina and I went to Grandma Kar's this afternoon. We saw Dan, Sheri, James, Robyn, and Dylan. Christina walked in her gait trainer on the patio. She did super well. It was hot out today and Christina and I were wet from sweat. The look of pride on Christina's face when she reached her goal made it all worth it for me.
Daddy Log - 20100717
Saturday. We played outside for a short time. Christina and I walked around in the pool and did some jumping. It was too hot to be out for any length of time. So we did lots of walking in the house.
Christina has also been working on choices. We put various flash cards in the switch and she hits the button to answer. The flash cards we got from our last speech session came in very handy for our bedtime story. We read one or two pages from a book. I let Christina choose how much we read. So the "All Done" and "More" card was helpful.
Daddy Log - 20100716
Friday night Christina did not fall asleep very early. She wanted to go to bed, but talked up a storm. She slept in late Saturday morning. It threw the day off a little, but we were back on track by Saturday night. The siren went off not too long after Christina went to bed. I was worried it would wake her up. She stirred and made some noise, but went right back to sleep. The lighting was beautiful to watch.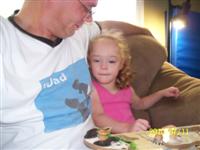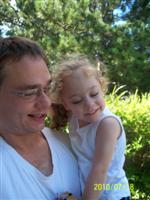 add comment